Daily Tariff & Types of Accommodation as of 12th April 2021
(GST Included)
Prices are subject to change without notice.
Please be aware Prices may change when Booking in advance to a Time in the Future – the New Rates will Apply.
Please note:
Communal Kitchen, Toilets & Showers are available to all Units Without Them.
All Guests to bring their own blankets or duvets, sheets & towels (or sleeping Bags & Towels) for All Accommodation.
Pillows and Cases are Provided
A Deposit is required within 10 days to Hold your Booking. This Deposit is equal to the Minimum Charge
Methods of payment accepted Eftpos, Visa, Mastercard, Cash or Cheque.
During Holiday periods, Easter, Queens Birthday, Labour Weekend and the Christmas period, a minimum of 2 nights booking is required.
---
The Group Unit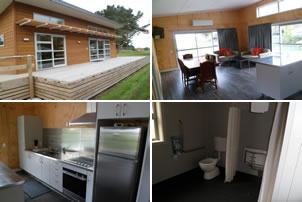 Includes:
1×1 King size Bed
2 sets of Bunks, 2 Single Bed settees (sleeps 7-8)
Kitchen, Toilet, Shower, Fridge Freezer, Radio, TV
Wheelchair access
$120 per night for two people
$20 per night for each additional adult
$12 per night for children 1 – 13 years old
Minimum Charge $110
---
Tourist Flat – 2 Bedrooms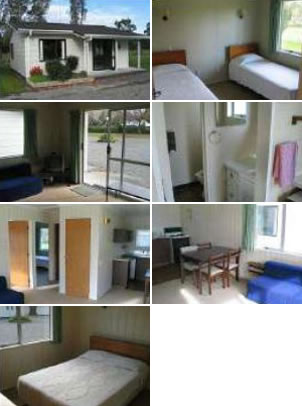 Includes:
11 Units – Two bedrooms, kitchen, toilet, shower, lounge, TV and Radio
1st Bedroom – 1 double bed
2nd Bedroom – 2 single beds (sleeps 4-6)
Lounge – 2 single bedsettes
1 of these units has wheelchair access.
$102 per night for two people
$20 per night for each additional adult
$12 per night for children 1 – 13 years old
Minimum Charge $102
---
Tourist Flat – 1 Bedroom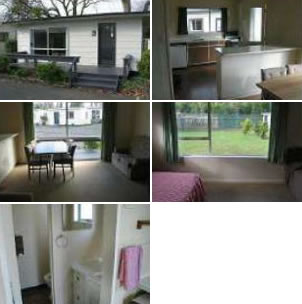 Includes:
2 Units – One Bedroom, kitchen, toliet, shower, lounge, TV & Radio
Bedroom – 1 double & 1 single bed
Lounge – 2 Single bedsettes (sleeps 3-5)
$102 per night for two people
$20 per night for each additional adult
$12 per night for children 1 – 13 years old
Minimum Charge $102
---
Tourist Cabin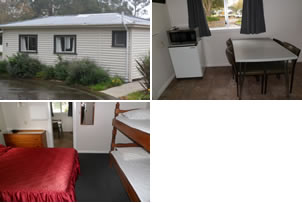 Includes:
1 bedroom, kitchen, toilet and shower
Bedroom-1 double & 1 set of bunks (sleeps 4)
$77 per night for two people
$20 per night for each additional adult
$12 per night for children 1-13 years old
Minimum Charge $77
---
Cabin with Kitchen and Toilet (4 different cabins)
Includes:
1 Bedroom, kitchen and toilet Bedroom has either 1 double bed, 1 set of bunks, or
1 double bed, 2 single beds, or
1 double bed, 2 single beds and 1 set of bunks, or
1 double bed, 2 sets of bunks
$69 per night for two people
$20 per night for each additional adult
$12 per night for children 1-13 years old
Minimum Charge $69
---
Cabin with Kitchen only
Includes:
1 bedroom Area & kitchen
3 units – 1 double bed & 1 set of bunks (sleeps 4)
1 unit – 1 double bed & 2 single beds (sleeps 4)
$66 per night for two people
$20 per night for each additional adult
$12 per night for children 1 – 13 years old
Minimum Charge $66
---
Standard Cabin
Includes:
No Facilities but may use Communal Kitchen etc.
1 unit – 1 double bed & 2 single beds (sleeps 4)
1 unit – 1 double bed & 1 single bed (sleeps 3)
1 unit – 1 double bed & 2 sets of bunks (sleeps 6)
$45 per night for 1 person
$58 per night for 2 people
$20 per night for each additional adult
$12 per night for children 1 – 13 years old
Minimum Charge $45
---
Powered Sites and Tent Sites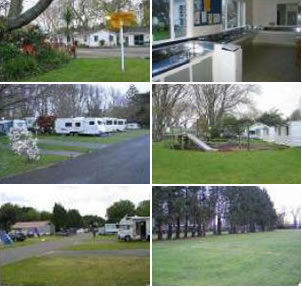 $30 per night for 1 person
$42 per night for 2 people
$20 per night each additional adult
$12 per night for children 1 – 13 years old
Minimum Charge $30